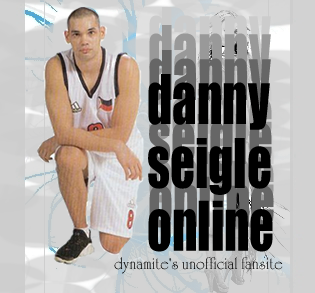 QUICK LOOK @ THE DYNAMITE

Daniel Charles Y. Seigle (born June 14, 1976 in Scranton, Pennsylvania) is a Filipino-American professional basketball player in the Philippine Basketball Association for the San Miguel Beermen. A 6'6", 205-lb. swingman, he is fondly called Dynamite Danny and Danny S by many. He won the 1999 PBA Rookie of the Year and led San Miguel to six championships to date during his career. He is also a member of the Philippine national basketball team.
Merry Christmas to all the Danny Seigle Supporters!





Professional career

Early years

In 1999, San Miguel acquired Seigle as its direct-hire Filipino-foreign cager, after the league instituted a rule for every team to have one Filipino-foreign cager acquired without going through the process of joining the rookie draft. The younger Seigle also had a brother playing in the PBA in Andy, then-playing for the Mobiline Phone Pals.

Despite a huge showing in the 1999 All-Filipino Conference, the Beermen was eliminated by eventual champion Formula Shell. However, the Beermen won the 1999 Commissioners Cup and the Governors Cup, with Seigle, 1998 Rookie of the Year Danny Ildefonso, Olsen Racela and imports Terquin Mott (Commissioner's Cup) and Lamont Strothers (Governors Cup) leading the charge. At season's end, Seigle won the Rookie of the Year honors but failed to win the coveted Most Valuable Player (MVP) award, which was won by Shell's Benjie Paras.

In 2000, Seigle continued to spark big numbers for San Miguel and led the team in regaining the Commissioner and Governors Cup titles. He was one of the frontrunner to win the MVP award, but lost to his teammate Danny Ildefonso. While the Beermen only won the 2001 All-Filipino Conference, they appeared in all three championship series during the year. Once again, he lost to Ildefonso in the MVP race








Injuries

In his fourth season with the league, Seigle joined the RP National Training Pool, as preparation for the 2002 Asian Games in Busan, South Korea. Although he did sit a few games for guest RP teams Hapee and Selecta during the Governors and Commissioner's Cup, Seigle managed to play in a number of exhibition games against foreign clubs. Unfortunately, during a pre-Asian Games match against Qatar on September 23, 2002, Seigle suffered a torn right Achilles' tendon after taking a shot. This prompted him to miss the Asian Games, while failing to appear for the Beermen in the season ending All-Filipino Cup.

Due to the extent of the injury, Seigle missed the entire 2003 season. While there were hints of a possible return during the season, the team kept him on the injured list. He made his much-awaited return to the team in the 2004 Fiesta Conference, albeit in a much limited role. It was the first time Seigle played for San Miguel since 2001. However, Seigle's old form resurfaced in the 2004-05 Philippine Cup, leading San Miguel to a third place finish. In the 2005 Fiesta Conference, an injury sidelined Seigle for a few games. He did make a return, playing a supporting role to Dondon Hontiveros as the Beermen won their 17th title and their first since 2001.








Return to form

In the 2005-06 Fiesta Conference, Seigle had a decent performance for San Miguel. However, the defending champions suffered a huge slump after winning only six games in the tournament and were in the process eliminated early by Air21 Express in the wildcard phase of the playoffs. Rumors of Seigle's possible trade to interested teams were reported by many, but SMB opted to keep him for the Philippine Cup.

The Philippine Cup put Seigle in the headlines as he scored at least 20 points 18 straight times during the conference. It also helped San Miguel gain an outright semifinals berth while putting Seigle as a prime contender for the Best Player of the Conference Award and also one of several players vying for the MVP award. Many believed that Seigle's scoring outburst is a sign of his return to form despite his previous injuries which could have minimized his athleticism.

Seigle's performance in the said conference gave him the PBA Philippine Cup Best Player of the Conference honors. It was Seigle's second Best Player Award since the 1999 PBA Governors Cup








Philippine National Team

In 2002, Seigle was selected to play in the 2002 Asian Games in Busan, South Korea. However, during an exhibition game against Qatar, Seigle suffered a nasty right Achilles heel injury that kept him out of the competition. In 2005, he was selected to play for Team Pilipinas, but did not play in the William Jones Cup, the Global Hoops Summit and the Brunei Cup as he recovered from his injuries.

In 2006, he played for the National team in leading them to their second straight Brunei Cup title. Seigle was also named as the tournament's Most Valuable Player.




| | | |
| --- | --- | --- |
| | CREDITS: www.wikipedia.com | |